Augment Your Entire
Contact Center Team
ForeSight Voice Mining doesn't just make your agents better at handling calls. It also empowers managers to provide timely coaching—and gives you the data to keep improving.
ForeSight Voice Mining augments agents with real-time tools such as knowledge recommendation, call flow guides, and a supervisor help button. It transforms agents into "super" agents who can provide better CX and increase sales while working more effectively.
ForeSight Voice Mining turns your supervisors into "super" supervisors. It lets them monitor multiple agents at once, review what has already happened on a call, make proactive decisions, and deliver timely support to agents—all in real time.
ForeSight Voice Mining's dashboards with automatic call analysis data help analysts gain insights for service, operational, and product improvement. QA managers can also use dashboards to check agents' performance such as talk script compliance rate.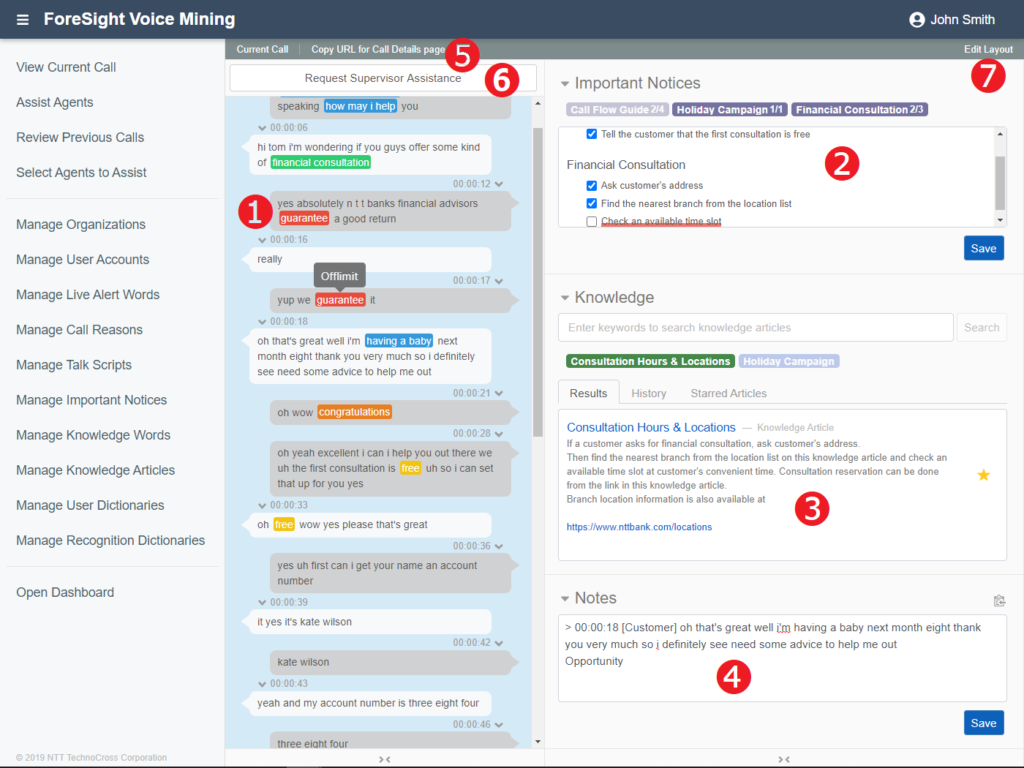 ForeSight augments agents with a set of powerful support tools, turning them into "super" agents:
Get alerted on opportunities and risks with color-coded keywords
Get live guidance on call flow, seasonal campaigns, and SOPs
Get the right knowledge article prompted in real-time
Copy key conversation with a time stamp, and take notes in real-time
Copy and paste the URL to the call review page into your CRM and save time
Request supervisor assistance if needed with a click of a button
Select only the tools needed and customize the screen layout for the peak performance
Real-Time Monitoring and Alerts
ForeSight Voice Mining lets supervisors monitor calls and sends them alerts in real-time so they can quickly spot at-risk customers or agents who need immediate support. Supervisors can also review the conversation trail and quickly grasp the situation of a live call allowing them to provide efficient support to their agents.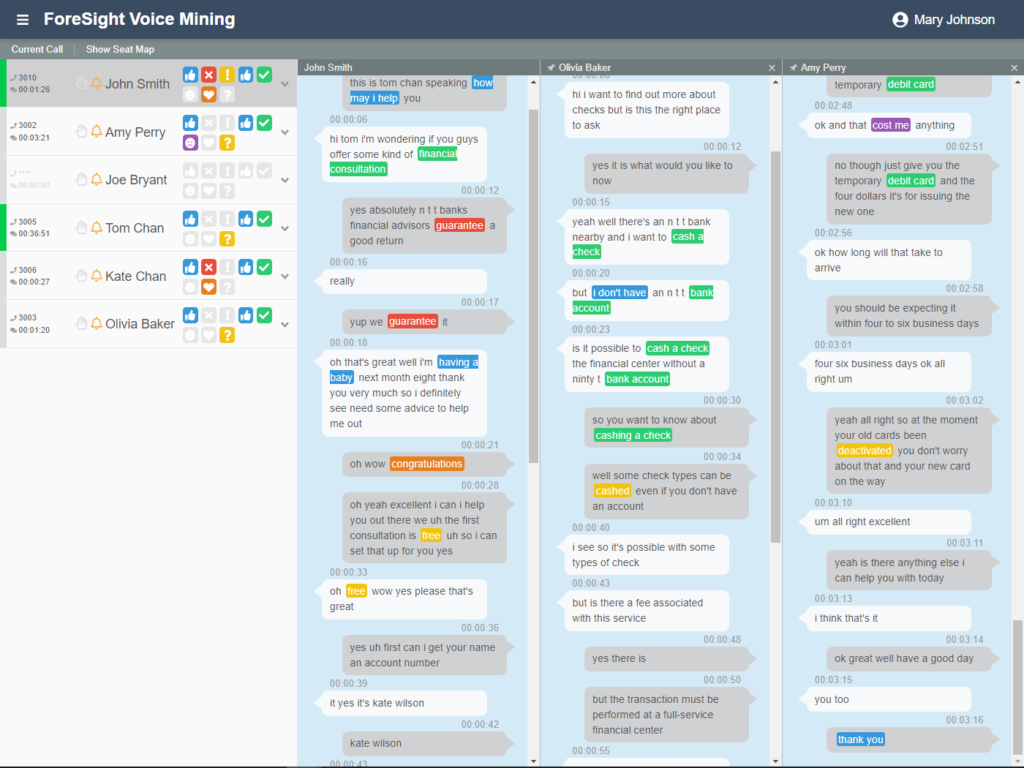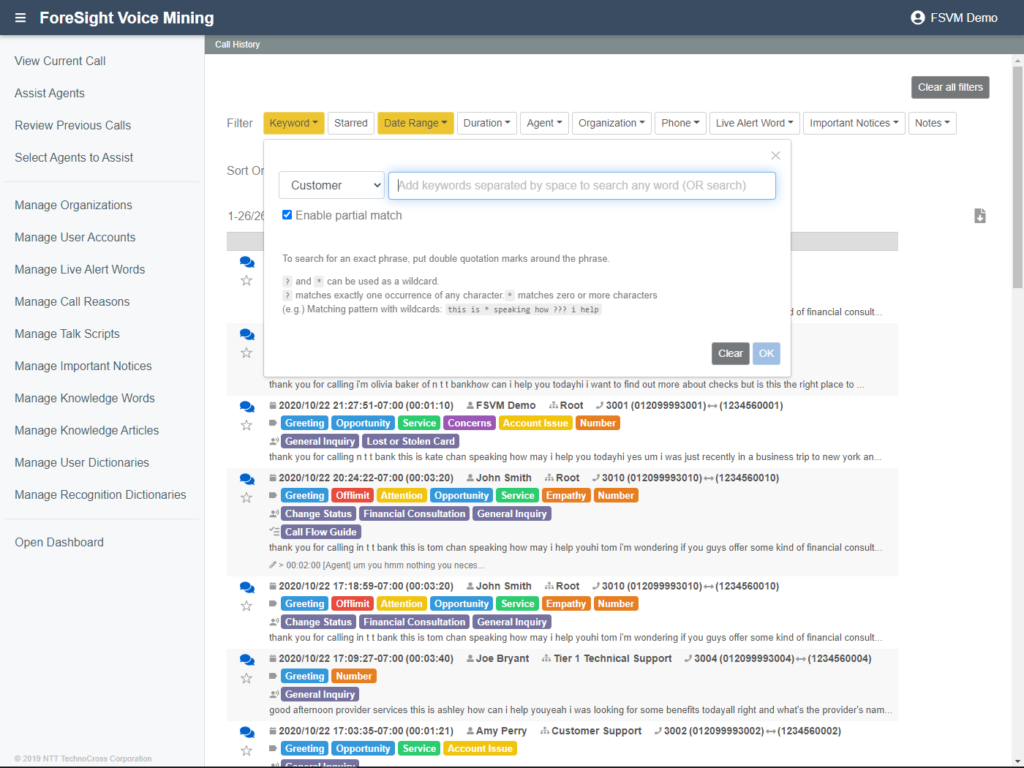 ForeSight Voice Mining allows supervisors and QAs to search calls by a variety of filters including date range, call duration, keywords, agent names, keywords in notes, and comformance to talk scripts (important notices).
Now they can quickly see trends and further drill down the detail.
With ForeSight Voice Mining, supervisors and QA can:
Review calls with text and audio
See where keywords were mentioned with color-coded highlights
Quickly locate and remember the section of the call that requires special attention
Jump to the exact location of the audio
See the silence sections visually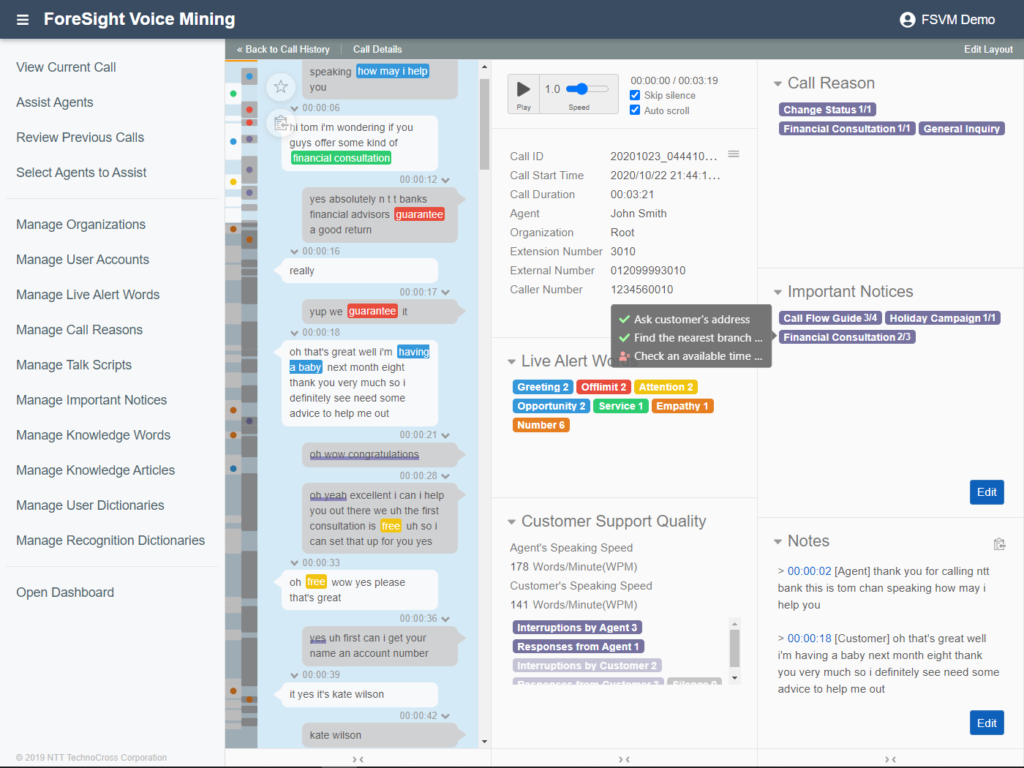 ForeSight's dashboards allow analysts and managers to quantitatively see customer interactions and agents' performance and to easily identify what they are doing well and where they can improve.